What We Do
Are you a Coach Company or a Group Tour Operator from Australia or Overseas?
Imagine having a team of specialists working on your behalf, creating tours, organising hotels, attractions and negotiating great rates, year in / year out for FREE.
Expanding Horizons is just that.
Our team of Tour Designers and Rate Negotiators work on your behalf to create, develop and deliver tour itineraries, on demand, to suit your individual and specific needs, using our trusted and ever growing business network that focuses on catering for the group touring market.
Have you ever been stuck for ideas on what tour to run next?
Our vast in-house database of itinerary suggestions leaves you spoilt for choice and covers all of Australia. This means you can access, quickly and efficiently, proven successful tours so all you have to focus on are your clients and attracting new ones.
We know that the most enjoyable parts of running a touring business are the clients and the travel.
Providing you with the back office functions - free itinerary planning, tour bookings and processing services - allows you to avoid many of the drudgery tasks of your business and frees you to spend your time on important business generating activities like building client relationships and marketing.
We only ever speak to you, never your clients; they will wonder where you find the time to present them with the best possible tours for all their special interests, social clubs and travel groups.
All you have to do is market to your customers, then once your tour is booked and we have all the accommodation and attractions secured for you, send us your rooming list.
We distribute your list to all the motels and attractions on your behalf – no matter how many changes are made prior to departure. As your silent partner, we make you the hero. All bookings are in your name and your passengers will think you are a superstar and have done it all!!
Our very accurate Drivers Notes contain all the information your driver will need to ensure your tour runs smoothly – even if the driver has never visited a destination before they will appear like an expert.
Your accounts are covered, you will receive one invoice and we will pay all the bills on your behalf.
We work as your "behind the scenes" partner – leaving you with the time to do what you do best – running your business and marketing to your clients.
Are you a Probus Club, Senior Citizens Group, Special Interest Club or School Group?
Have a look at some of our itinerary suggestions and ask your coach company to contact us. If you do not have a local coach company to contact, we can provide your club with a recommended coach operator in your region.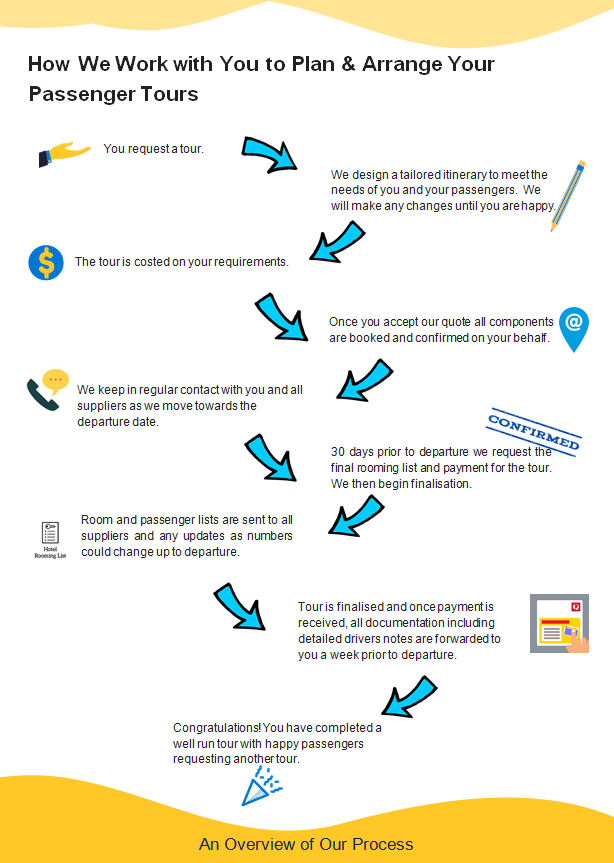 What our clients say
"Scenic Horizon Tours has been associated with Expanding Horizons for approximately 17 years. Our business has grown considerably over this time and we attribute much of our success to the expertise of the team at Expanding Horizons who are always friendly and helpful and willing to assist in any way possible. The itineraries are always interesting, the motels selected are of a high standard and the support given by Expanding Horizons allows us the time we require to concentrate on our business and the smooth running of our tours."
Darrel & Kerrie Eddy
Owners, Scenic Horizon Tours, NSW Central Coast
Bert and Michael Potter started Potter Travel in the mid 1990's and quickly came to the conclusion that for their business to be successful they needed help with the planning and organising of their extended tours. They developed a relationship with Expanding Horizons in the very early days of their business and went on to enjoy a 10 year relationship that saw both companies prosper and the Potter Travel business grow beyond their expectations because their clients were amazed by the tours that they were able to deliver. That relationship still exists today although the ownership of Potter Travel has changed. The success of Potter Travel, now over 20 years in business, is to a great extent the result of the relationship Bert created in the mid 1990's with Expanding Horizons. The current owners and staff of Potter Travel are delighted with the ongoing relationship and are thankful to Expanding Horizons for the quality and professionalism of the services they provide us with.
David Bostock
Director, Potter Travel & Potter Coaches, Canberra , ACT
We have had a wonderful working relationship with the Expanding Horizons for almost 15 years. We just let the EH team know where we want to go and what we want to see & the EH product, processing & operations department look after the rest. As a small company we can concentrate on selling the tour. Every EH team member is friendly and efficient. We couldn't be happier!
Jann Davey and Roger Entwistle
Owners, Mirror Image Travel Club, Adelaide, SA
Aussie Sights Coach Tours has worked with Expanding Horizons for well over 10 years. During this time our company has grown from a very small extended tour operator to one that has holidays that people talk about for many years. We place much of our success on our partnership with the family at Expanding Horizons who are always willing to assist in any way possible. The support given by Expanding Horizons with the setting up of our tours and when we are on the road allows us the time we require to concentrate on looking after our valuable clients. Our issue free touring is due to all of our friends at Expanding Horizons going that "extra mile" for us.
Andrew and Lyndall Douglas
Owners, Aussie Sights Coach Tours, Campbelltown NSW
Victor Tours and Expanding Horizons have had a 5½ year association and during that time we have travelled successfully around Australia and overseas. The organisation and experience of the staff of EH stands out as the itineraries are always well thought out and planned with our customers in mind. What we really appreciate is that EH have taken the time to learn who our customers are, they are constantly learning more about them and tailoring our itineraries accordingly. Victor Tours and Expanding Horizons relationship is a true partnership, we appreciate what they do and I know the feeling is mutual.
Kym Fuller & Adona Cervantes
Owners, Victor Tours, Victor Harbor, SA
Expanding Horizons has over the years been an essential partner for Australian Road Journeys as you allow us to efficiently supply our clients a quick, reliable and professional service to our diverse club/group client base.
As a group specialist, your extensive knowledge of the Australian landscape through years of experience allows us to offer our clients exceptional quality itineraries at very competitive prices.
Keep up the good work!
Cesare Cataldo
Group Sales Manager, Australian Road Journeys , Victoria